Dual Tray Laser Printer Recommendations for Notary Signing Agents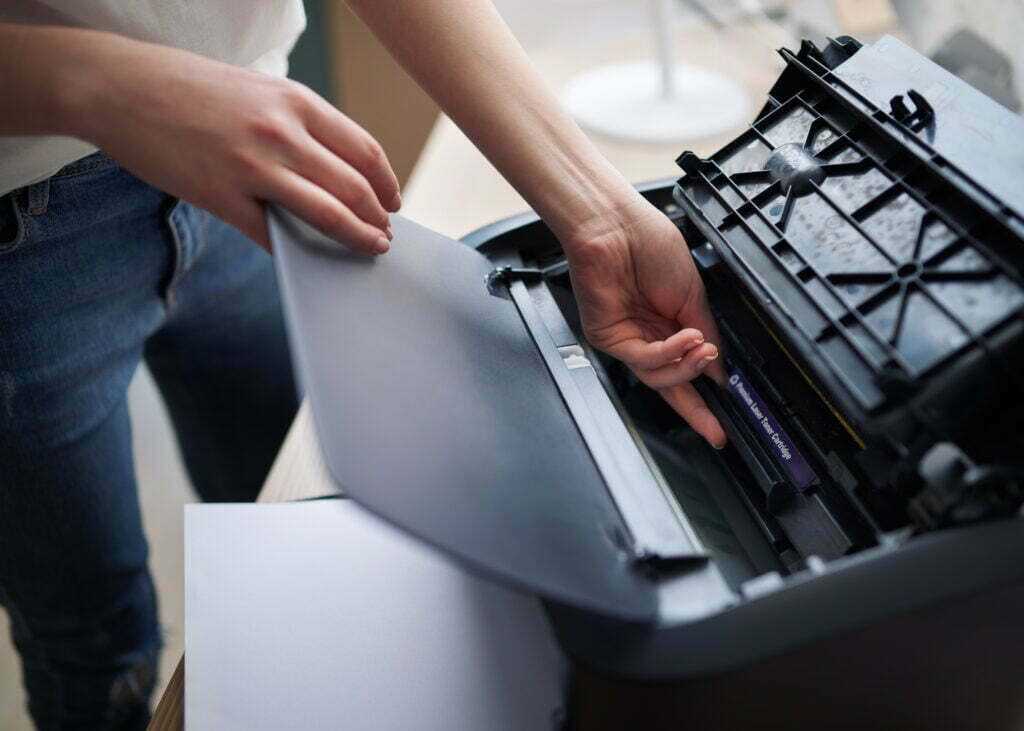 Notarization stands as an essential cornerstone within the Financial Services Industry. With that said, developing a successful notarial business requires prudent resource management to ensure success.
For a Notary Signing Agent, aside from the necessary gas costs for driving to an appointment, printing expenses also tend to shape up as significant investments to ensure successful operations.
Selecting the correct tool for taking care of all printing needs is extremely essential in this process. In this article, we dive into how to look for the best laser printer for Notary Loan Signing Agents to enable you in your choice-making.
What type of printer should a notary use?
Dual tray laser printers are mandatory for Notary Signing Agents because they allow you to print legal and letter paper on a single laser printer while keeping the documents in the original order. It is also known as a 2 drawer laser printer, two-drawer laser printer, or they are simply called dual tray printers.
The laser printer has two trays – one for letter-sized paper and one for legal-sized paper. This lets the laser printer print both paper sizes while keeping the original document in order. But usually, loan documents come in more than one size of paper. And every company has its own way of organizing documents, so you will always be surprised.
Dual tray laser printers come in color and black & white models, with some also offering duplex printing capabilities. "Duplex" means the laser printer can print on both sides of the document. Loan documents should never be printed this way so it's not necessary to look for a duplex laser printer (but it might be hard to find a dual-tray laser printer that's not duplex). Loan documents will be separated and scanned by the company you are sending them to. Printing double-sided will complicate that process, resulting in you never getting a signing from that company again. Notary Signing Agents only need to print documents in black and white, so you can save money by not purchasing the color laser printer option.
When selecting a dual tray laser printer for Notary Loan Signing Agent use, it is essential to look for models that offer high-quality prints that prints at least 40 pages per minute since you'll be printing lots of documents and might receive late or last-minute documents that you'll have to print right before you leave for a signing. A large paper capacity is also beneficial and so is a dual tray wifi printer.
What are dual tray laser printers?
A dual-tray laser printer is an all-in-one office solution with two paper trays holding both letter and legal-size paper. This allows you to quickly print multiple documents in the desired format without switching out paper types continuously. The dual tray also helps keep your documents organized and in the proper order for signing.
Is it acceptable to print loan documents on letter-sized paper?
Printing the documents in the original format is vital. Any substitutions to this may draw unwanted attention from signing companies, who don't appreciate altered sizes of documents. Making sure to print all documents at their original size will help you stay in the good graces with any signing companies you encounter – after all, no reason exists to stray away. Not only will printed documents appear as expected, but this practice can also prevent issues such as companies withholding future signings if they are unhappy with the quality of your printed documents. It's best not to take any shortcuts when it comes down to the printing period!
Can a loan signing agent use an inkjet printer?
When it comes to loan documents, quality is an absolute must. Every notary loan signing agent can agree that inkjet printers are not the way to go. Unfortunately, if someone already owns an inkjet machine, investing in one of the best laser printers available today is the best course of action. This would guarantee impeccable printing outcomes and provide peace of mind for anyone who needs a high-quality printed loan document. Respectively, permanently say no to inkjet printers and yes to purchasing a top-tier laser printer instead!
Ink jet printer cartridges are expensive
An ink jet printer ink cartridge is expensive, and the documents can get ruined if something wet spills on them. Inkjet ink can smudge or smear more quickly, which can cause documents to be rejected by closing companies.
As opposed to ink cartridges, laser toner doesn't bleed when wet and can be much less expensive in the long run. All of those extra dollars count when you're running your notary business.
Inkjet printers should also not be used because the county recorder may refuse to record a Deed of Trust, Grant Deed, or Quit Claim Deed made on an inkjet printer.
Inkjet printers are designed differently than laser printers, producing a critical factor to consider: speed. The waiting time can vary drastically between these types of printers; while large-scale document packages might only take minutes with a laser printer, your standard inkjet could take several hours. So if you need documents printed quickly, particularly a large loan package, you'll want to ensure that the correct laser printer is in hand.
Do you have to use genuine toner cartridges?
People often prefer cloned or remanufactured toner cartridges because they are less expensive than genuine Brother or Hewlett-Packard supplies. However, using them may void your printer's warranty. It's really up to you if you want to take the risk, but you'll usually be able to buy a new laser printer from the money you save from replacing the toner cartridges just a few times in case something goes wrong.
Can I use my current printer?
Probably not if you have an inkjet printer. If you already have a laser printer, but it's only a single tray, and you can't afford to purchase a new one, you can often get by with Page Separator (affiliate link) software.
Single-tray printers also often have a document feeder for envelopes or other papers that hold tens of sheets of paper. You can often set up your print settings and Adobe Acrobat or Adobe Reader to use the document feeder as a second tray for your legal-sized paper. You might also want to check to see if your single-tray printer can add a dual-try addon.
Dual Tray Laser Printer For Notary Signing Agents Recommendations
Are you looking for the best laser printer to print loan documents? It can be difficult, as you'll need to print plenty of pages. That's why many Notary Loan Signing Agents prefer using Brother or Hewlett-Packard printers. Not only have these two brands provided reliable printing services in the past, but they have a range of products for almost any budget. Plus, the high page capacity lets you finish your loan documents quickly, so you don't have to waste valuable time waiting for printouts. With all these features available from one central source, who could blame Notary Loan Signing Agents for trusting Brother and Hewlett-Packard?
Recommendations:
Brother Monochrome Laser Printer, HL-L5200DWT, Duplex Printing, Wireless Networking, Dual Paper Trays, Mobile Printing, Amazon Dash Replenishment Ready
FAST, HIGH-QUALITY PRINTING: The HLL5200DWT monochrome laser printer delivers a fast print speed of up to 42ppm and sharp resolution
LARGE PAPER CAPACITY, EXPANDABLE: Dual paper trays (250-sheet and 520-sheet capacity) allow busy workgroups to print with fewer interventions. Mobile Device Compatibility – AirPrint, Google Cloud Print 2.0, Brother iPrint&Scan, Mopria, Cortado Workplace, Wi-Fi Direct
FLEXIBLE CONNECTIVITY: Easily share the printer on your wireless or Ethernet network and print with ease from a wide range of mobile devices(1)
AMAZON DASH REPLENISHMENT ENABLED: Upon activation, Amazon Dash Replenishment measures the toner level and orders more from Amazon when it's low. Operating Environment: Temperature : 50-90 degrees F. Power Consumption – Power Off/Deep Sleep/Sleep/Ready/Printing : 0.03W / 1.3W / 6.7W / 32W / 620W
FOR USE WITH BROTHER GENUINE TONERS: TN820 Standard Yield Toner, TN850 High Yield Toner for cost efficient output
Brother HL-L6200DW Wireless Monochrome Laser Printer with Duplex Printing (Amazon Dash Replenishment Ready)
FAST PRINTING – With a print speed of up to 48 ppm, this printer is ideal for busy offices. Plus, it offers crisp, clear text and excellent graphics
FLEXIBLE PAPER HANLDING – Easily handle your large print jobs via dual adjustable 520-sheet capacity paper trays and a 50-sheet capacity multi-purpose tray. For additional capacity, add 520-sheet capacity or 250-sheet capacity paper trays for a total input capacity of 1,610 sheets
VERSATILE CONNECTIVITY – Built-in wireless 802.11b/g/n and Gigabit Ethernet network interfaces in addition to USB 2.0 connectivity allow you to share the HL-L6200DWT with multiple users on your network
MOBILE DEVICE PRINTING – Print from your mobile device via: AirPrint, Google Cloud Print 2.0, Mopria, Brother iPrint&Scan, Cortado Workplace and Wi-Fi Direct
TRIPLE LAYER SECURITY – Help safeguard sensitive documents and securely connect to the device and your network
Sale
HP LaserJet Pro M402n,Monochrome Laser Printer with Built-in Ethernet, Amazon Dash replenishment ready (C5F93A)
Fast printing. Strong protection. Grab pages and go-without waiting around. This printer wakes up and prints faster than the competition.
Keep printing safe from boot up to shutdown with security features that guard against complex threats.
This printer is Ethernet (wired networking) or USB only. Need wireless Select the 402dw model.
More. Pages, Performance, and Protection. Get the most prints for your money-with Original HP High Yield Black Toner cartridges with JetIntelligence.
Print right away with preinstalled toner cartridges. Replace them with optional high-yield cartridges.
HP Laserjet Pro M402n Monochrome Printer, (C5F93A) (Renewed)
This listing if for the Printer and Power cord only, Toner is not included.
Fast printing. Strong protection. Grab pages and go-without waiting around. This printer wakes up and prints faster than the competition.
This printer is Ethernet (wired networking) or USB only. Need wireless? Select the 402dw model.
More. Pages, Performance, and Protection. Get the most prints for your money-with Original HP High Yield Black Toner cartridges with JetIntelligence.
HP LaserJet 1320tn Monochrome Network Printer with Extra Input Tray (Renewed)
This Certified Refurbished product is tested and certified to look and work like new. The refurbishing process includes functionality testing, basic cleaning, inspection, and repackaging. The product ships with all relevant accessories, a minimum 90-day warranty, and may arrive in a generic box. Only select sellers who maintain a high performance bar may offer Certified Refurbished products on Amazon.com
1,200 dpi laser quality; automatic two-sided printing
Up to 22 ppm print speed, first page out in less than 8.5 seconds
133 MHz Motorola V4 Coldfire processor, 16 MB RAM, expandable to 144 MB
Additional 250-sheet input tray, total 500-sheet capacity
Last update on 2023-09-21 / Affiliate links / Images from Amazon Product Advertising API
When you're on the road between signing appointments and want the convenience of printing documents from your car, it may seem like your home printer is too impractical. After all, lugging such a big device around isn't feasible for many people. So then, what are the alternatives? A mobile-only printer! That way, apart from still giving you the convenience of using technology and mobility, it also conveniently fits in small spaces – thus making it perfect for cars and any other transferring space. Best yet, there are plenty of economical devices that are reliable and sturdy without putting a significant dent in your wallet!
Recommendations:
Brother HL-L2300D Monochrome Laser Printer with Duplex Printing
Prints up To 27 ppm, automatic duplex printing.Printer doesn't have Wi-Fi capabilityIt prints Sharp, professional Black and white pages at up to 2400 x 600dpi resolution. Auto duplex printing saves resources by printing on both sides of paper. Manual feed slot lets you conveniently print envelopes and letterheadsRefer the specification sheet below for contents of package and refer to the user manual for trouble shooting steps.
250 Sheet Capacity Paper Tray. A4 2-sided print speed-13. A4 standard print speed-26. Automatic 2 sided print. Recommended monthly volume-250 to 2,000 pages
Windows 10 Compatibility: If you upgrade from Windows 7 or Windows 8.1 to Windows 10, some features of the installed drivers and software may not work correctly. Please uninstall all drivers and software in Windows 7 or Windows 8.1 before upgrading to Windows 10
1 year limited warranty with free phone support for the life of your machine
This machine uses a USB connection ensuring your office runs smoothly with no complications. High Speed USB 2.0 Interface. Does not come with USB cable. Maximum Monthly Duty Cycle: 10,000 pages. Output Paper Capacity (sheets):100
Last update on 2023-09-21 / Affiliate links / Images from Amazon Product Advertising API
Multi-function machine or Scanner
Here's a place where you can choose what works best for the business you are creating. You'll need a scanner to scan back documents to the title company or lender after the signing. This can be either in a Multi-function machine or a stand-alone scanner.
The Multi-function machine is better if you use the other features, while the stand-alone scanner is best if you create a mobile office. Of course, if you're already making money or want to invest more in your business, you can purchase both.
Multi-function machine
This device can do many things, like printing, scanning, and copying. If you want to buy one, ensure the scanner part has enough memory to scan 30-100 pages.
This machine can help copy a few pages. It can often print on both sides of the paper, which can come in handy for printing instructions or confirmation letters. However, you should not print loan documents double-sided.
Recommendation:
Sale
Brother Monochrome Laser Printer, Multifunction Printer, All-in-One Printer, MFC-L5800DW, Wireless Networking, Mobile Printing & Scanning, Duplex Printing, Amazon Dash Replenishment Ready
INNOVATIVE SCANNING CAPABILITY: Supports multiple scan-to destinations such as email, USB, SharePoint, Cloud Services, Network, and more. (1) First Page Out Time 7. 2 seconds max. Printer Driver Compatibility Windows, macOS, Linux. Black Print Speed max. 42 ppm. (2) Mobile Device Compatibility AirPrint, Brother iPrint&Scan, Mopria, Cortado Workplace, Wi-Fi Direct (3)
ADVANCED SECURITY FEATURES: MFCL5800DW helps protect against unauthorized device and document access, and securely connect to your network
70-PAGE AUTO DOCUMENT FEEDER: The 70-page capacity auto document feeder is perfect for unattended copying, faxing, or scanning. Power Source – AC 120V 50/60Hz
DASH REPLENISHMENT ENABLED: Upon activation, Dash Replenishment measures the toner level and orders more from when it's low. Operating Environment Temperature 50-90F
FOR USE WITH BROTHER GENUINE TONERS: TN820 Standard Yield Toner, TN850 High Yield Toner for cost efficient output. Copy Resolution 1200 x 600 dpi
Last update on 2023-09-21 / Affiliate links / Images from Amazon Product Advertising API
Stand-Alone Scanner
Have you struggled to carry your bulky scanner to and from your notary signing appointments? This smaller scanner can be taken with you in the car without hassle! It's incredible how simple it is to pull up, plug into your car's battery through a power inverter, scan documents between appointments while on the go and then instantly send them back via your mobile internet service. Be sure you're prepared for anything as a busy Notary Loan Signing Agent when out on the job!
Recommendations:
Sale
Epson Workforce ES-500W II Wireless Color Duplex Desktop Document Scanner for PC and Mac, with Auto Document Feeder (ADF) and Scan from Smartphone or Tablet
Easy wireless scanning — scan to smartphones, tablets, computers and online cloud storage accounts (1) from your desktop, smartphone or tablet using the Epson Smart Panel mobile app (3)
Get organized in a snap — scan up to 35 ppm/70 ipm (1); Single-Step Technology captures both sides in one pass
Quickly scan stacks of paper — robust 50-sheet Auto Document Feeder easily accommodates multiple paper types and sizes in one batch
Powerful software included — easy scanning with intuitive Epson ScanSmart Software (2); preview, email, upload to the cloud and more; automatic file naming saves time
Seamless integration with most software solutions — the included TWAIN driver allows you to easily incorporate your data into most document management software
Sale
ScanSnap iX1600 Wireless or USB High-Speed Cloud Enabled Document, Photo & Receipt Scanner with Large Touchscreen and Auto Document Feeder for Mac or PC, White
Optimized user experience: ScanSnap iX1600 features an intuitive 4.3inch touch screen for complete end to end scanning and data utilization
Customize your preference: The scanner supports up to 30 customizable profiles; Customize the profile on the touch screen based on your scanning needs and personalize scanning icons using color, icons or letters
Scan anywhere you want whenever you want: Wi-Fi compatibility allows you to directly connect to your smart devices or cloud services without a PC, and allows for flexible placement wherever its convenient
Great for both individuals and teams: Personalized icons for multiple users make it easy to use the touch screen at a glance
Preserve Photo Memories: Scan 4″ x 6″ photos in under a second with intelligent features such as auto facial orientation and red-eye reduction
Brother ADS-3300W Wireless, High-Speed Desktop Scanner | 2.8-inch Touchscreen | Scans Up to 40ppm1
IDEAL FOR SMALL OFFICE, HOME OFFICE AND WORK FROM HOME USERS – A compact, easy to use, complete organization solution.
INCREASES PRODUCTIVITY – With single and dual-sided scanning speeds of up to 40ppm1 and capacity of up to 60 pages
VERSATILE & CONVENIENT – Scans several document types and sizes, scan directly to your computer or to USB with Hi-Speed USB 3.0 connectivity
TRIPLE LAYER SECURITY – Helps safeguard sensitive documents and to securely connect to devices and networks
ADDED VALUE WITH BUNDLED SOFTWARE 2 : Includes 7 applications to optimize, enhance and customize documents and workflows
Last update on 2023-09-21 / Affiliate links / Images from Amazon Product Advertising API
If you find yourself needing to scan a document, a smartphone scanner app seems like it could come in handy! Unfortunately, this method takes more time than a traditional scanner and may even run afoul of rules set by certain companies. These rules can restrict where documents are stored; using a cloud server could result in unsavory consequences. So do your research before you hit that scan button!
Printing Software

One of the first challenges with becoming a notary who handles loan documents is how to print them. This can take a lot of time and can easily be done incorrectly. Fortunately, our partners at Page Separator have developed software to solve this problem if you don't have a dual tray laser printer yet.
Paper
It's no secret that you'll need to use a lot of paper. Whenever it's time to replenish your stock, it's best to shop around and compare prices to keep your printing costs low. To make sure you have more than enough available and keep your costs down, look for the option to buy paper in bulk instead of purchasing more miniature packs of 500 reams. For your day-to-day printing needs, aim for the standard 8 ½" x 11" (letter) and 8 ½ x 14 "(legal) sizes; there's no need to splurge on expensive paper varieties here. Consider choosing the least expensive, basic office copy paper and enjoy money savings as you do your business tasks!
As an Amazon Associate I earn from qualifying purchases