Notary Gadget Review – The Best Accounting Software for Notary Signing Agents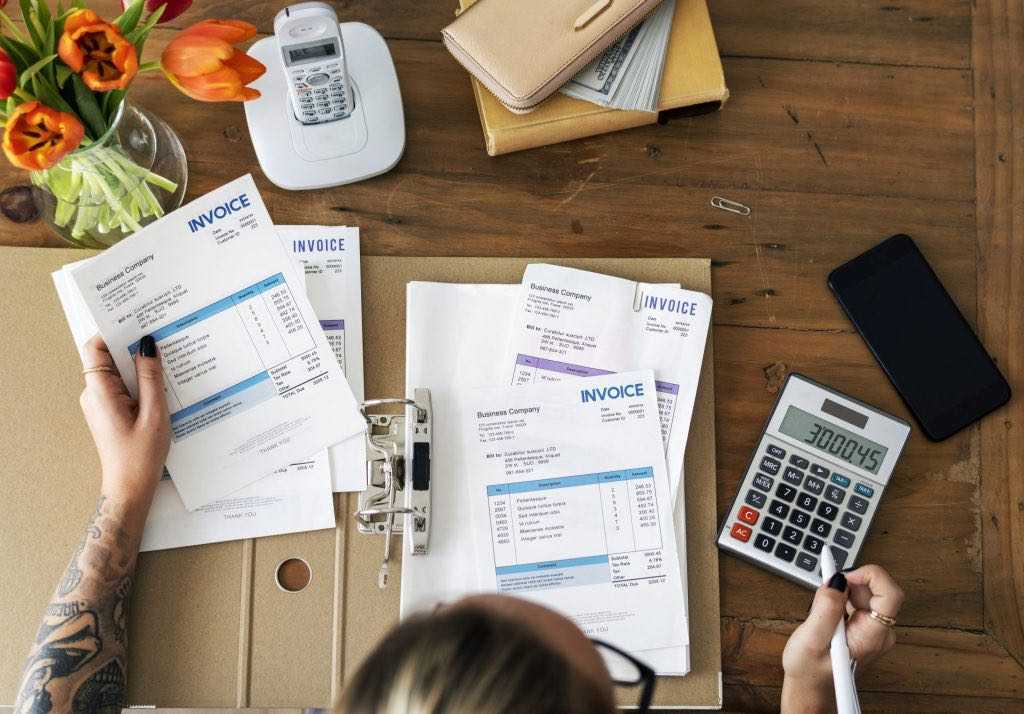 Note: this page contains affiliate links, which means we'll make a small commission off of any purchases at no additional cost to you.
If you're a notary signing agent, then you know how important it is to have the right software to help you manage your business. There are a lot of different options out there, but which one is the best?
We'll review its features, benefits, and price to see if it's worth your investment. So whether you're looking for new accounting software or want to learn more about this one, keep reading!
Notary Gadget is the best accounting software for notary signing agents because it's easy to use and has all the features you need

Notary Gadget is a great accounting software tool for your notary business that's used by notary professionals nationwide. It's user-friendly and has all the features you need to fulfill your accounting responsibilities, such as creating and sending invoices, tracking payments, tracking expenses, tracking mileage, tracking notarial acts, managing your calendar, and preparing reports to help you with tax deductions at tax time.
It works on all devices, and there isn't any software to install.
This makes it the perfect tool for notary professionals to streamline your notary signing agent business processes and make them more efficient, giving you more time for the important stuff. Notary Gadget is an excellent choice for quick and accurate accounting solutions!
You can track your expenses, invoices, notarial acts, and payments with Notary Gadget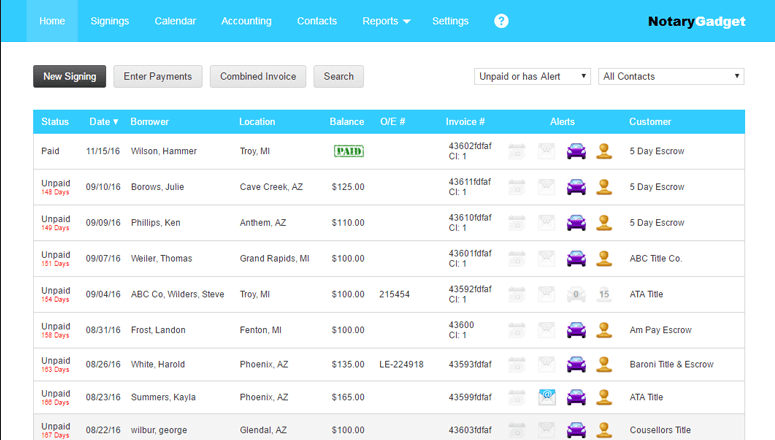 Assessing and tracking business expenses, invoices and payments is a daunting challenge for many entrepreneurs, and mobile notaries that conduct loan signings have specialized reporting requirements.
However, Notary Gadget's super easy accounting software makes it remarkably simple to help you stay organized and manage your finances. With its intuitive, user-friendly interface, it takes no time to input your data and create charts that visualize the inflow and outflow of funds.
Automation tools like this save notary signing agents time by presenting all required information in one centralized place.
Notary Gadget also provides reports so notary public entrepreneurs can monitor their income and expenses daily.
The automatic invoicing feature gives you the ability to create invoices as PDF files to send to your customers without opening up your email. Save time by not having to create invoices in Microsoft Office to attach to emails that you write yourself.
Thanks to this modern platform, finances don't have to be a discouraging element anymore – controlling them has never been easier!
Notary Gadget also allows you to manage your appointments and clients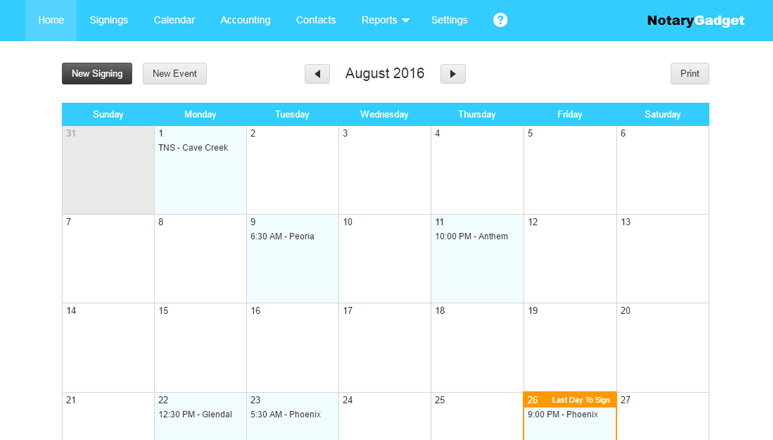 Notary Gadget provides invaluable peace of mind to busy notaries. You no longer have to worry about missing or double-booking appointments, as the app helps you track them all in one place. It even integrates with your Google Calendar and mobile phone and can send you email or text reminders, so you don't miss a signing.
It also makes it easy to manage your clients, granting you access to their contact information and past appointments at the tap of a button.
Streamline your business today with Notary Gadget – the perfect partner for any discerning notary!
Import your signings from all of the major signing platforms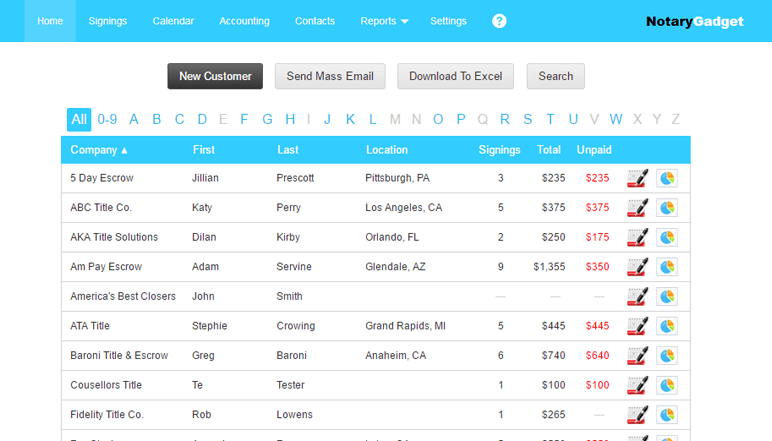 NotaryGadget offers seamless integration with all the popular signing platforms, signing companies, title companies, and escrow companies. This import feature will make it easier to manage your orders quickly and efficiently and save you from manually typing in each loan signing.
Save money and time at tax time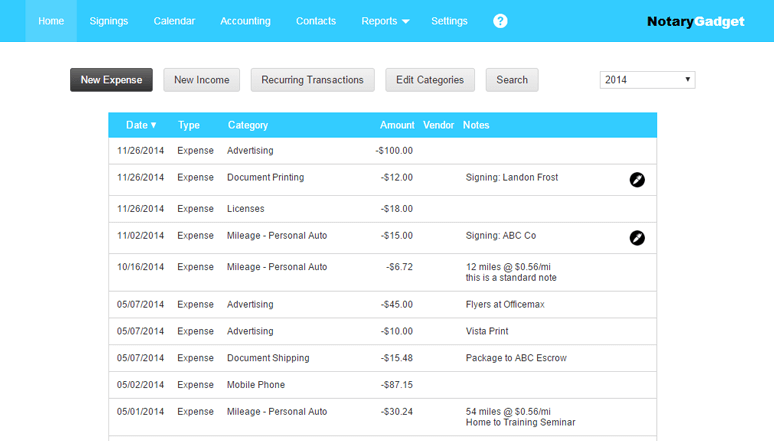 The fees collected for performing notarial acts are not subject to Federal self-employment tax, but many notary signing agents have difficulty tracking notarial acts so that they have everything needed for accurate reporting to help them fill out their tax return.
Most of these mobile notaries end up giving up and paying more taxes than they need to, but this software can prepare a report to give to your tax professional to help prepare your tax documents.
The cloud-based software also helps with tracking mileage and other expenses that might also result in tax deductions (consult your tax professional).
The software is affordable and comes with a free trial, so you can try it before you buy it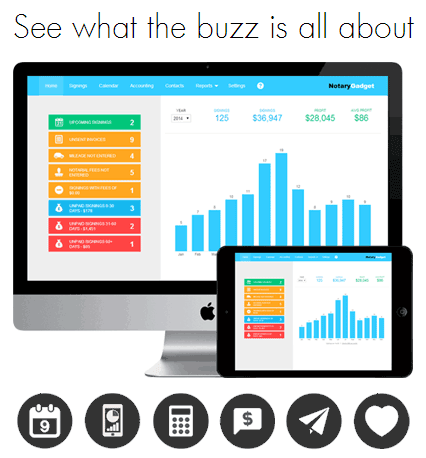 When it comes to purchasing accounting software for notaries, there's nothing better than being able to trial a product before committing financially. That's why this software is so great – not only does it come with a free trial period, but the price for the whole package is also very affordable. It allows signing agents to try before they buy, giving them peace of mind that they are investing in something that is worth the cost and meets their requirements. There is no excuse not to give this software a test run before taking the plunge!
We highly recommend Notary Gadget for any notary signing agent who needs an easy to use accounting software
As a notary signing agent, having reliable accounting software that is easy to use can be the difference between success and failure. That is why we highly recommend Notary Gadget to anyone in the field. Notary Gadget provides quick setup and intuitive navigation, allowing users to easily track their income, expenses, jobs, payments, and more at a fraction of the cost of some other services. It also offers helpful tutorial videos for new users so that everyone can learn how to get the most out of their experience with minimal effort. With some of the lowest fees in the industry and excellent customer support, you'd be hard-pressed to find any reason not to choose Notary Gadget as your accounting software!
Notary Gadget is the best accounting software for notary signing agents because it's easy to use and has all the features you need. You can track your expenses, invoices, and payments with Notary Gadget. The software is affordable and comes with a free trial, so you can try it before you buy it. We highly recommend Notary Gadget for any notary signing agent who needs easy-to-use accounting software.

Get a NotaryGadget login account now.